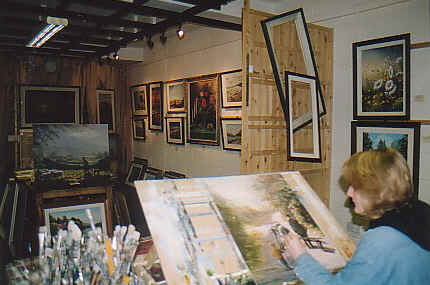 About Jane
Jane Hilliard is a self taught artist.
After a decade of working full-time as a professional
painter, Hilliard has developed a distinctive style and repertoire;
a crisp and detailed approach to the West Kerry landscape.
Jane Hilliard works from her gallery and studio in the center of Tralee
where her work is on exhibition and her studio is open to the public.
A prolific artist, she produces work for exhibition and to commission.
Her work has been featured in numerous selected exhibitions and she has recieved
many private and public commissions.
She is a member of the Artists Association of Ireland.
"My work is a culmination of the experience of growing up in Kerry,
the desire to share it and an inner yearning to paint - as strong
as the need to drink when thirsty!
The last decade of working, sleeping and breathing painting has
been a process of developing the skills and techniques
I need to capture the beauty that I see and, hopefully,
the passion that I feel. It is an ongoing process.
I see no completion in that development. My work is a living,
growing part of me or maybe I'm a living, growing part of it."